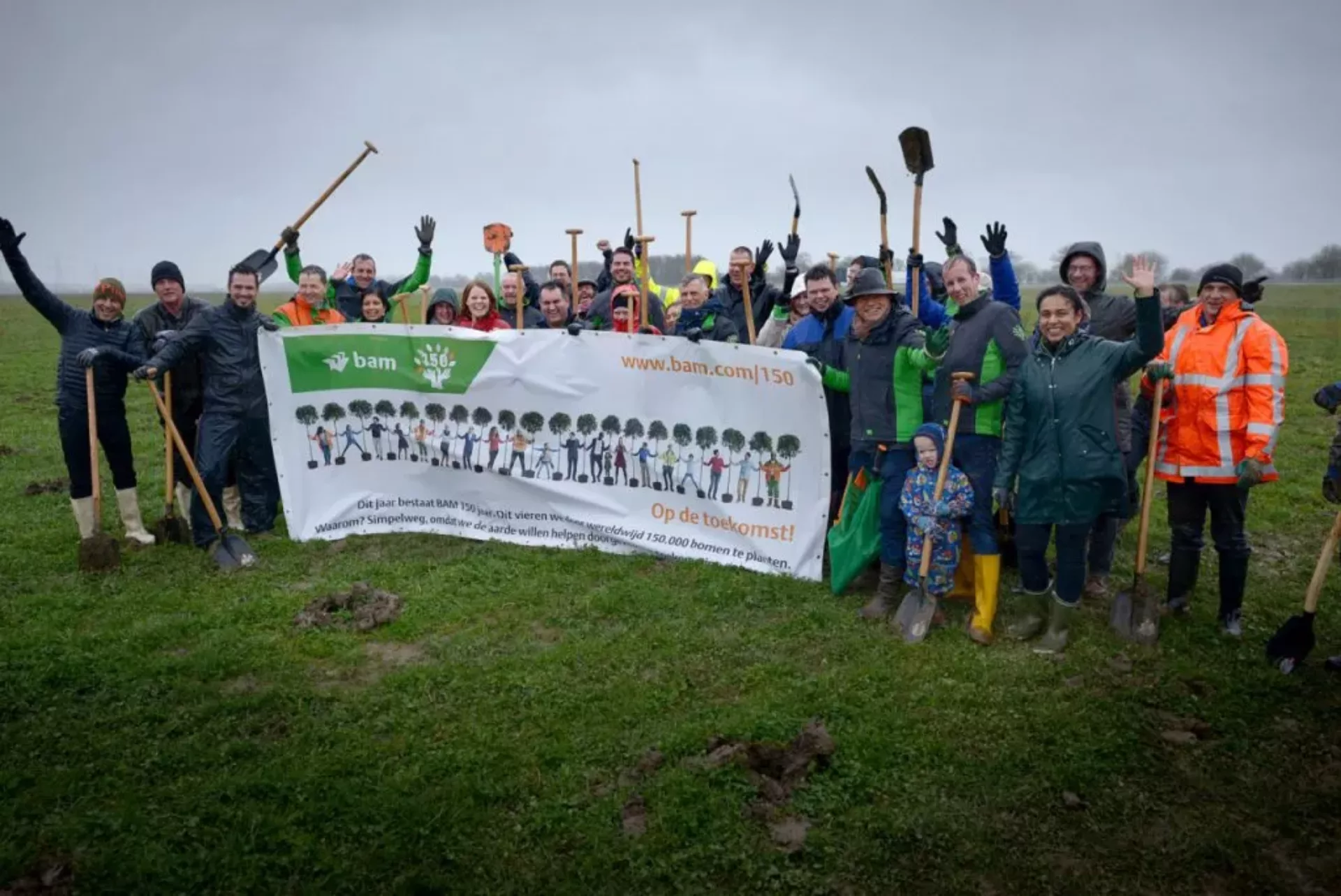 150 years BAM: Trees for All and BAM are planting 150,000 trees
This year Trees for All will be planting trees in nine different countries around the world to celebrate the 150thanniversary of the Royal BAM Group. Sixteen projects in Europe and the tropics have been selected to plant a total of 150,000 trees. For the first time Trees for All will be planting trees in other European countries besides The Netherlands.
'We've been planting trees in the tropics for some twenty years now and in the Netherlands for the last couple of years,' says director Lena Euwens of Trees for All. 'We concentrate our efforts on sustainable forest projects with maximum added value for climate, nature and people. We're very proud to be partnering BAM in this major project.'
Trees for All is planting some 100,000 trees in reforestation projects in Bolivia and Uganda. In these countries, we're restoring nature and contributing to the socio-economic development of the people who are hit hardest by climate change. In addition, 50,000 trees are being planted in the different countries where builder BAM operates. Alongside its home country of the Netherlands these are Belgium, Germany, Denmark, Switzerland, the United Kingdom and Ireland. These projects have been selected by Trees for All exclusively for BAM's 150th anniversary celebrations.
"With this gesture to future generations we're emphasizing BAM's mission to realise a sustainable environment."
BAM ceo Rob van Wingerden says: "What started as a small family-run firm has grown into a leading European company. Throughout the years we have built impressive buildings and infrastructure that have enhanced many people's quality of life. It's an achievement of which we are extremely proud. We want to celebrate this historic milestone in a way that benefits everybody and demonstrates our commitment to safeguarding the planet. That's why BAM will plant 150,000 trees worldwide in 2019. With this gesture to future generations we're emphasizing BAM's mission to create a sustainable environment: sustainable when it comes to the quality experienced by the hundreds of thousands of users of our projects, and sustainable when it comes to solutions for our customers and value creation for our shareholders."
More information about BAM's history and the various activities to mark its anniversary can be found on www.bam.com/150.